Pre-Conference Workshops
---
Optional – Thursday, Oct 9 (8 am-5 pm) and Friday, Oct 10 (8 am-3 pm) | $899
---
Blended Learning Course Design: A Boot Camp for Instructors
Presenters:Ivan "Ike" Shibley, Jr., Penn State Berks | Timothy Wilson, The University of Western Ontario | Oliver "Ollie" Dreon, Millersville University of Pennsylvania
Blended courses combine the best pedagogical practices of two teaching methods—online and face-to-face instruction.
If you have considered converting a traditional course into a blended course, you have probably asked, "What should happen before, during, and after class?"
It is an important question to consider because your answer will determine how you spend class time, how students are introduced to course content, and what opportunities they will have to work with new ideas and information.
In Blended Learning Course Design: A Boot Camp for Instructors you will answer these questions and make an informed decision about what should happen before, during, and after class.
During this pre-conference workshop, learn the most pedagogically effective ways to blend instructional technology, course content, and course activities to promote the interaction of students with one another, the instructor, and the content. You will leave with a tangible process to implement a successful blended learning course.
Participants will leave the two-day workshop with:
A better understanding of how to manage the three phases of a blended learning cycle: before, during, and after class.
The ability to create a syllabus for a blended course.
Ideas on how to organize their own LMS for a blended course.
A greater familiarity with technology tools and how they can support learning.
An outline of the work that they need to do before launching their blended course.
---
Optional – Friday, October 10, 2014 | $185 each
---
Online Course Development 101
8:00 a.m. – Noon
Presenters: Renee M. Cicchino and Shayle Adrian, Seton Hall University
Institutions are offering online versions of their face-to-face courses to meet the growing demand and needs of their learners.
Are you ready to develop and facilitate an online course?
This pre-conference workshop will demonstrate key standards and essentials for developing a quality online course. Topics and discussion will focus on faculty readiness and workload management, student readiness and engagement strategies, appropriate use of technology, accessibility, and best practices in course design.
Participants will have the opportunity to bring a course syllabus so that they can develop one unit, module, or week of their course and receive feedback. Templates for course development as well as a variety of resources will be shared.
After this session, you will be able to:
Assess your readiness to develop/teach an online course.

Implement time management and workload management techniques.

Apply best practices in online course design to your own course.

Create a module/unit/week with measurable learning objectives, activities, and assessments based of a quality assurance rubric.
About the Presenters:

Renee Cicchino
Shayle Adrian
Renee Cicchino is the senior instructional designer with the Teaching, Learning and Technology Center at Seton Hall University. Her primary focus is on supporting faculty in the development of online and hybrid courses; although she also manages special projects and initiatives for Seton Hall's TLT Center. She is a Quality Matters Master Reviewer; a graduate of the Institute for Emerging Leadership in Online Learning through Penn State and the Sloan Consortium and earned a Certificate in Online Teaching through the Sloan Consortium.
Shayle Adrian is an instructional designer in the Teaching, Learning and Technology Center at Seton Hall University, where she helps support faculty in the use of technology. She has experience in several aspects of educational technology, including instructional design and storyboarding, graphics, programming, evaluation and project management.
---
10 Ways to Engage Students in the Online Classroom
Friday, October 10, 2014

8:00 a.m. – Noon
Presenter: Stephanie Delaney, Seattle Central Community College
Discussions—whether you teach online, hybrid, or even Web-enhanced classes—are the foundation of student engagement for the online classroom. Still, many of us are unhappy with the quality of engagement that results from our discussions. What can you do about it?
Bring some of your discussion activities/questions to this interactive workshop. We'll apply the three key rules of great discussions and revamp your discussions to make them more engaging.
Next, we talk about assessing your discussions and using rubrics as a powerful tool to encourage engagement and save you tons of grading time.
Then we shake it up and look at 10 ways to engage students in the online classroom that go beyond the discussion board. By the time you finish up this fun workshop, you'll have some new friends, some improved discussions, and dozens of fabulous ideas you can use in your online classroom right away.
After this session, you will be able to:
Describe 10 ways to engage online students.

Assess your online discussions.

Analyze the effectiveness of discussion assignments using three key rules of great discussions.
It is highly encouraged to bring your electronic device so you can fully engage in this workshop.
About the Presenter:
Stephanie Delaney
Stephanie Delaney is the associate dean of eLearning at Seattle Central Community College. There, she supports faculty in eLearning pedagogy and supports students in learning successfully online. She also teaches online courses in law and the global environment. Delaney earned her PhD in educational leadership in higher education/distance education at the University of Nebraska at Lincoln. She also holds a law degree from the University of San Diego School of Law.

---
Robust and Effective Technology-Facilitated Course Design
1:00 p.m. – 4:30 p.m.
Presenters: Tyler Griffin, Brigham Young University and Ollie Dreon, Millersville University of Pennsylvania
College instructors often spend the majority of their teaching preparation focusing on "what" they teach. It is important to remember, however, that content organization, sequence, packaging, and delivery (the "hows" of teaching) are also vital.
In this workshop, we provide effective design principles and relevant examples (and non-examples) of those principles in practice. We provide a hands-on approach so participants can experiment in a practice-environment Learning Management System (LMS) and then implement selected design principles in their own courses.
This workshop is informative, practical, and fun for anyone who wants to foster deeper and more meaningful learning experiences for their students.
After this session, you will be able to:
Clearly articulate relevant and effective instructional design principles for your course(s).

Identify strengths and weaknesses in existing course designs.

Successfully create a course design that implements best practices.

Continually improve your course design over time (including both electronic and face-to-face elements).
About the Presenters:
Tyler Griffin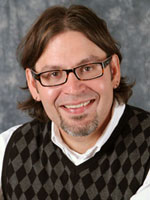 Ollie Dreon
Tyler Griffin is an assistant professor at Brigham Young University. With degrees in Electrical Engineering and Instructional Technology, combined with 18 years of professional teaching experience, Tyler has three major focal points in his work: (1) Best practices for teaching & learning (2) Best uses of technology to increase the scope and scale of learning, and (3) best practices for teacher development/inservice. He teaches over 1,000 students per semester and loves how technology can help to "shrink" large classrooms.
Oliver (Ollie) Dreon is an associate professor and director for the Center for Academic Excellence at Millersville University of Pennsylvania. He teaches a wide variety of education and instructional technology courses both in face-to-face and online formats, and also coordinates the university's Digital Learning Studio. He is the coauthor of the book Authentic Instruction with Technology: A Student-Centered Approach and has published in various journals, including the Middle Level Journal, TechTrends, and Teachers and Teaching.
---
How to Apply Recent Copyright Court Decisions to Your Online Course
1:00 p.m. – 4:30 p.m.
Presenter: Linda K. Enghagen, University of Massachusetts at Amherst
Over the past several months, a number of courts have issued rulings on copyright and fair use questions in educational (and related) settings. This workshop lays out what those rulings do and do not tell us about the limits of fair use. After laying out what the courts have said to date, the workshop takes a more applied approach.
You'll examine the legal ins and outs of some of the most common types of materials utilized in the development and delivery of distance education courses, including.
Do-It-Yourself Materials

Open-Access Resources

Creative Commons Licensed Materials

Commercial Textbooks and Other Educational Products

Library Resources

Free Websites

Personal Copies

Public Domain Works
All participants receive a resource packet of supplementary information.
After this session, you will be able to:
Develop a working understanding of the most recent court rulings addressing fair use in education settings.

Develop an understanding of the significance of "transformative uses" as "fair uses."

Identify how to apply these rulings in course design and delivery.
About the Presenter:
Linda Enghagen
Linda Enghagen is an attorney and professor in the Isenberg School of Management at the University of Massachusetts at Amherst. Her scholarly contributions related to intellectual property are directed to the needs of faculty members including two books, Technology and Higher Education: Approaching the 21st Century and Fair Use Guidelines for Educators. She also is the author of numerous articles, such as "Plagiarism: Intellectual Dishonesty, Violation of Law or Both?," "Fair Use in an Electronic World," and "Copyright Law and Fair Use—Why Ignorance Isn't Bliss."
---
Follow The Teaching Professor on Facebook for the latest updates on the Conference.